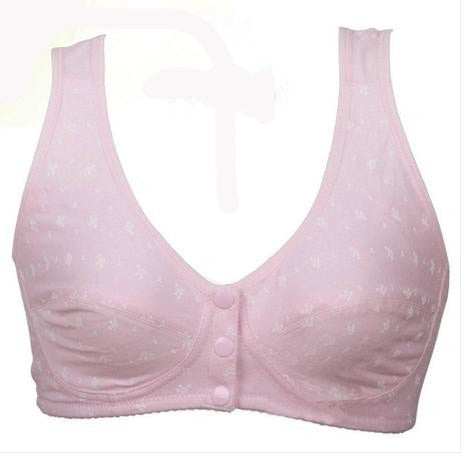 $30.99
Regular price
$61.80
Are you looking for a bra with the perfect fit, comfort and style? Look no further! The Tracey Front Closure Bra is the perfect solution for all your needs. This amazing bra offers two front closure options, hook and eyes or buttons, giving you the freedom to choose which works best for your body.
This beautiful and comfortable addition to your wardrobe is designed to be supportive without constraining. It features wireless soft cup design for enhanced comfort and support. The non-adjustable shoulder straps provide no slipping off your shoulders. The delicate fabric makes it incredibly easy to move around in and ensures minimal show-through even under tight-fitting clothes. Plus, this special material helps absorb sweat and keeps you feeling cool in any situation!
If you're looking for an everyday staple that combines fashion with function, then the Tracey Front Closure Bra is your best bet! With its wonderfully helpful design, Amazing fit quality and attractive price tag — it's sure to become the new go-to item in your wardrobe. Don't wait another second — try one now!

 
Cold, gentle machine wash in wash bag. Do not tumble dry.
---
Free shipping on orders over $100
Tracey Bra
$30.99 AUD
Regular price
$61.80 AUD
Frequently Asked Questions

Why am I a different size in a Front closure bra?

Front closure bras are different from back closure bras. Back closure bras have extra room, but front closure bras don't. If you need a front closure bra, look at the hook and eyes fastening to know your size. If you use the first set of hook and eyes fastening then that's your band size. But if you use the last set of hook and eyes fastening then you should get a bigger size than usual.

I am looking for a wirefree front closure bra.

Our website filters are an amazing tool that can help you find exactly what they're looking for. With our intuitive filter system, users can quickly and easily narrow down their search to find products and services that fit their specific needs. For example, if you're looking for a wirefree front closure in a H Cup, you can use the filter options to filter in the bras that meet your criteria. This helps you save time by only seeing what you actually want to see. Similarly, if you are searching for a new bra, you can use our filters to narrow down your choices to the exact style or colour you're looking for. Our website filters are invaluable for helping you find exactly what you're looking for in just a few clicks.

How long will it take to get my front closure bra?

Typically this item takes 30 days to arrive.
Shipping

Fast shipping

Because we use many different manufacturers it normally takes up 30 days to arrive to your location. Our products come from all over the world.

Get in touch

Product quality and customer satisfaction are top priorities for Braeasy. Our products are made from the highest-quality materials and by highly-skilled artisans to ensure excellent craftsmanship. We pride ourselves on ensuring that our customers have a great experience with their purchases, from start to finish.

We understand how important size fit is when selecting apparel items, so we provide detailed sizing charts to assist with choosing the right size for each product. Additionally, our return policy is generous and allows for full refunds within 30 days of purchase.

We strive to get your orders out as soon as possible with our fast shipping services; we offer free shipping on orders over $50 AU and for subscribers, and expedited services too! We know that security of payments is essential, so we support several payment methods as well as PayPal for added convenience.

If you have any additional questions about our products, don't hesitate to contact us at thankyou@braeasy.com or use the chat feature available directly from the website.
About us

NDIS

BraEasy is proud to be an NDIS provider, giving customers the opportunity to use their NDIS plan funding to pay for consumerables such as our products. We understand how important it is for people with disabilities to have access to the items they need and we're committed to making that happen. Our team of specialists are here to help you through the process, ensuring you get the most out of your plan money while still getting the right product for your needs. With BraEasy, you can take care of your purchase knowing that it's both affordable and supportive. By simply using our Cash On Delivery process to get your invoice, you can order your items and they ship once the invoice is paid.

About BraEasy

BraEasy was born from our need for my daughter to be able to put on a bra independently after suffering a stroke. Now women all over the world can purchase a bra they can actually wear. Feeling comfortable and confident everyday. Jamie was diagnosed with a brain tumour when she was just nine years of age. When she turned 12 I realised due to the stroke she couldn't put on a bra with one hand. So I invented the side closure bras. The first was of course named Jamie. Since then, we have sourced so many bras and named them after the ladies who approached me with their struggle to find a bra they could wear.

That's where our product names come from.
Let customers speak for us